Shawnee Mission North High School


to the
Shawnee Mission North Class of 1963
Website!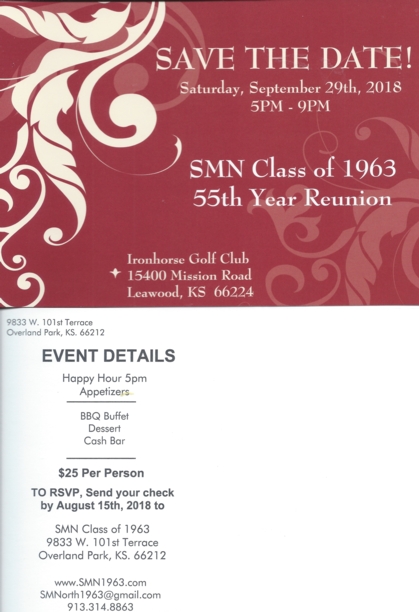 SAVE THE DATE! THE POSTCARD ABOVE WAS MAILED RECENTLY AND YOU SHOULD HAVE IT NOW. .
IF WE HAVE YOUR UPDATED ADDRESS!
Now you can register on here to attend the 55th Reunion. Look at the menu on the left sidebar under the Home Page - "55th Reunion registration" and click on that. You will find two choices to sign up. Those who sent their checks in previously will find they are signed up for the dinner only. If you also want to go on the school tour, you must sign up for that. It's free, but we need a count for the school to know how many will be there.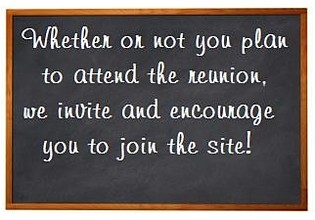 Look above for the new
Message Forum.
Post a message and/or reply to someone's post.
Please register to see what your former classmates have been up to!
There have been 44,133 visits by SM North Class of 1963 alums to this website since its inception on
April 8, 2013!

Have you moved and/or changed
your phone number since 4/8/13?

Please update your PROFILE on this site.
This insures you will hear about any planned events.


Ye Old Webmasters!
Ann (Kirk) Sandler and Chuck Seel

ANNOUNCEMENTS
Jo Akers
Elizabeth Applegarth (Cook)
Sandra K. Bilyeu (Bull)
Margaret Chester (Neel)
Carol Cloepfil (Clement-Connor)
Sandy Coleman (Tankersly)
Stephen R. Denny
Jane Evans
Karen Fabris
Carol A. Frey (Hanesworth)
Margie Garner
Ron Getz
Grace E. Goodhart (Armstrong)
Mike V. Goodwin
Mary Sue Hutton (Kelly)
Cheryl Jones
Judy Klenk
Lynette Star Louden
Judy Lybarger
Edna M. Lyons Ikeda
Nancy Lyons
Sally Ann Marquette
Bobi S. Parcell (Townsend)
Marilyn Pettie
Carol Pritchett
Charles Proctor
Gary Sackett
Ronald J. Schatsick
Margaret Shriner (House)
Sandra K. Teter
Sandy Webb Gunlock
Jeannie Whitehurst
James R. Wiloughby
HELP!!! We need to find these folks before the next reunion. If you have ANY hint as to where we might find the above people, please CONTACT US and let us know! Possibly you know an email address, their children's names, their workplace (now or earlier), the ladies may have a second (or more) married name - (we do check their maiden names), an old phone number, or last place you remember they lived after high school/college.
SMNOF - Shawnee Mission North Opportunity Fund -
"Finding & Funding Opportunities for the Shawnee Mission North Community"
Please visit their website and learn all the good they do for our Shawnee Mission North students!
Click here to go to their website.
To learn more about this excellent opportunity for Shawnee Mission North students, please click here.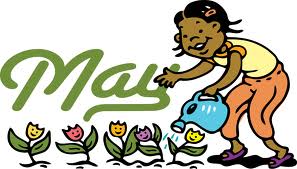 Month:
Date Your Mate Month

Foster Care Month

National Barbecue Month

National Bike Month

National Blood Pressure Month

National Hamburger Month

National Photograph Month

National Recommitment Month

National Salad Month

Older Americans Month
Weekly Celebrations:
Nurse's Week - first week of month

Wildflower Week - week two

National Bike Week - third week

National Police Week - third week of month

Emergency Medical Services Week - fourth week of month
May, 2015 Daily Holidays, Special and Wacky Days:
1 International Tuba Day - first Friday in May
1 May Day
1 Space Day - first Friday in May
2 Baby Day
4 Bird Day
4 National Candied Orange Peel Day
5 National Teachers Day (Tuesday of the first full week of May)
6 National Tourist Appreciation Day
6 School Nurses Day the Wednesday during Nurse's Week
8 Iris Day
8 Military Spouses Day the Friday before Mother's Day
8 V-E Day
8 World Red Cross Day / World Red Crescent Day
9 Birth Mother's Day - Saturday before Mother's Day
9 International Migratory Bird Day the second Saturday in May
9 National Train Day- date varies
10 Mother's Day second Sunday in May
12 Limerick Day
13 National Receptionist Day the second Wednesday in May
15 National Bike to Work Day - third Friday of month
15 National Chocolate Chip Day
15 Police Officer's Memorial Day
16 Armed Forces Day - third Saturday of month
17 Pack Rat Day
20 Be a Millionaire Day - now we all can go for that
21 National Waiters and Waitresses Day
22 Buy a Musical Instrument Day
23 International Jazz Day - Saturday of Memorial Day weekend.
25 Memorial Day last Monday of month.
25 National Missing Children's Day
25 Victoria Day(Canada) - usually the 24th
You must be logged in to see the rest!

NOTICE: If you are reading this on an iPad or other Apple product, you may not be able to enjoy all of the features on this website!
Join with other Shawnee Mission North Classmates of 1963 and Like us on Facebook!
Clicking on the icon below will open up a new window.

REFER A FRIEND PROGRAM
I have added a link below that is automatically configured to use as a "Refer a Friend" program. Not only is the Class Creator site used for high school classes, but for families and any group that may benefit. If we refer someone to the site and they sign up for Class Creator, a $50 check will be sent to US!! This is a great way to earn a little extra money and try to keep our cost down for reunions. If you know anyone that could use the service please pass along the information. To receive credit they must use the link below. If they need assistance please use the "Contact Us" button.