Shawnee Mission North High School



to the
Shawnee Mission North Class of 1963
Website!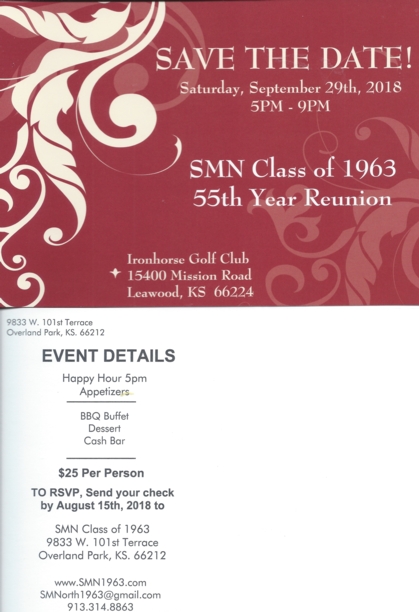 Due to recent inquiries, we are extending the deadline to September 1- so those of you who are planning to join us, please enter your name on the 55th Reunion Registrations on the left menu and mail your check in. Only then is your reservation saved!
SAVE THE DATE! THE POSTCARD ABOVE WAS MAILED RECENTLY AND YOU SHOULD HAVE IT NOW. .
IF WE HAVE YOUR UPDATED ADDRESS!
Please register on here to attend the 55th Reunion then send your check in to the address provided. Look at the menu on the left sidebar under the Home Page - "55th Reunion registration" and click on that. You will find two choices to sign up. Those who have already sent their checks in will find they are signed up for the dinner only. If you also want to go on the school tour, you must sign up for that. It's free, but we need a count for the school to know how many will be there.
Please register to see what your former classmates have been up to!
There have been 48,246 visits by SM North Class of 1963 alums to this website since its inception on
April 8, 2013!

Have you moved and/or changed
your phone number since 4/8/13?

Please update your PROFILE on this site.
This insures you will hear about any planned events.


Ye Old Webmasters!
Ann (Kirk) Sandler and Chuck Seel

ANNOUNCEMENTS
Please read:
I spoke briefly with Keith Kelso last night to see if they were coming to our upcoming reunion....only to be shocked. He needs our prayers, best thoughts and wishes....he is facing the "end" at home. May God bless him and family. He said to tell everyone "hello". His new address is: 8600 W. 155th, Overland Park, KS 66223
Tom Bach
Karen Fabris
Cheryl Jones
Lynette Star Louden
Sandra K. Teter (Wilhite)
HELP!!! We need to find these folks before the next reunion. If you have ANY hint as to where we might find the above people, please CONTACT US and let us know! Possibly you know an email address, their children's names, their workplace (now or earlier), the ladies may have a second (or more) married name - (we do check their maiden names), an old phone number, or last place you remember they lived after high school/college.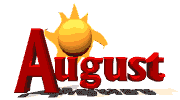 !
August (Listeni/ˈɔːɡəst/ aw-gəst) is the eighth month of the year (between July and September) in the Julian and Gregorian calendars and one of seven months with a length of 31 days.[1] In the Southern Hemisphere, August is the seasonal equivalent of February in the Northern Hemisphere. In many European countries, August is the holiday month for most workers
This month was originally named Sextilis in Latin, because it was the sixth month in the original ten-month Roman calendar under Romulus in 753 BC, when March was the first month of the year. About 700 BC it became the eighth month when January and February were added to the year before March by King Numa Pompilius, who also gave it 29 days. Julius Caesar added two days when he created the Julian calendar in 45 BC giving it its modern length of 31 days. In 8 BC it was renamed in honor of Augustus (despite common belief, he did not take a day from February; see the debunked theory on month lengths). According to a Senatus consultum quoted by Macrobius, he chose this month because it was the time of several of his great triumphs, including the conquest of Egypt.
If you know of someone who hasn't logged onto our new website. . .
they are MISSING!
Please make sure they know we are here!
Of course, logging onto this website does not obligate anyone to come to the reunion, but it gives everyone a chance to contact old friends to see what they have done in the last 55 years!
Give your old SMN friends this information:
Log onto SMN1963.com and a log-in screen will appear.
Where it says NEW MEMBERS - click on "missing classmates" and then find your name, click on it.
A box will come up with a button that says [Join here!
if this is (your name) please click here.]
That will take you to a quick form
to create your log in information.
Fill in the form and go on to the next page
to create your profile information.
Below your profile information please visit the
privacy information for YOUR profile only and check
which ones you would like.
If you have problems/questions you can either
press the "Contact us" at the top of the page
or just email smn63classreunion@gmail.com
with your name (maiden name), address, phone, and email address.
Join with other Shawnee Mission North Classmates of 1963 and Like us on Facebook!
Clicking on the icon below will open up a new window.

REFER A FRIEND PROGRAM
I have added a link below that is automatically configured to use as a "Refer a Friend" program. Not only is the Class Creator site used for high school classes, but for families and any group that may benefit. If we refer someone to the site and they sign up for Class Creator, a $50 check will be sent to US!! This is a great way to earn a little extra money and try to keep our cost down for reunions. If you know anyone that could use the service please pass along the information. To receive credit they must use the link below. If they need assistance please use the "Contact Us" button.
You must be logged in to see the rest!

NOTICE: If you are reading this on an iPad or other Apple product, you may not be able to enjoy all of the features on this website!
SMNOF - Shawnee Mission North Opportunity Fund -
"Finding & Funding Opportunities for the Shawnee Mission North Community"
Please visit their website and learn all the good they do for our Shawnee Mission North students!
Click here to go to their website.
To learn more about this excellent opportunity for Shawnee Mission North students, please click here.